Welp, it's happening: Trump is starting to execute on his campaign promises in the most hypocritical and unprofessional manner possible. Was it expected? I think so [1]. Will it get better? Probably not. It's going to be a long and crazy ride. And we are in it together.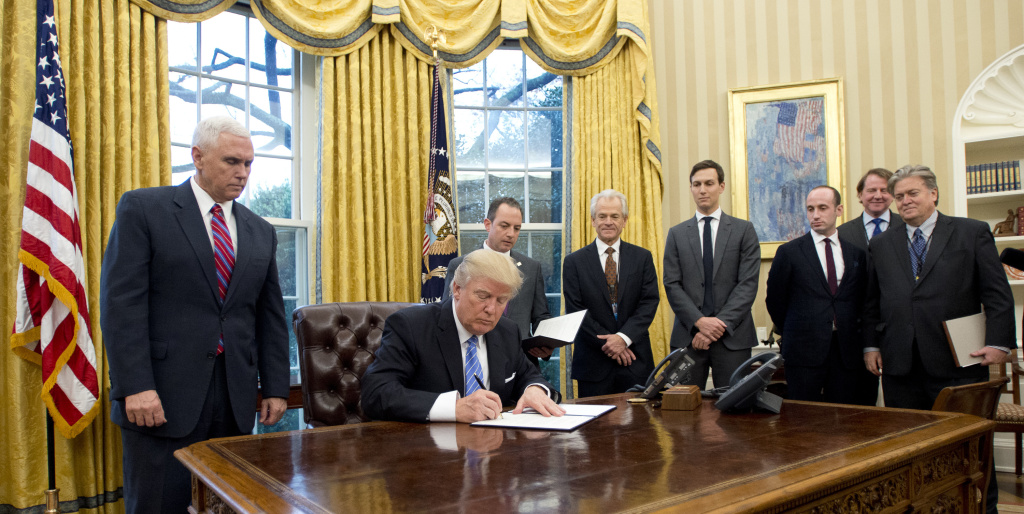 Grumpy White Men. Credit: Getty Images
What Happened?
On January 28, 2017, Trump signed an executive order about refugee restrictions and temporary provisions aimed at limiting immigration and travel to the United States from Iraq, Syria, Iran, Libya, Somalia, Sudan, and Yemen.
Those are predominantly Muslim nations that don't have a history of supplying terrorists to the United States [2]:
Foreigners from those seven nations have killed zero Americans in terrorist attacks on U.S. soil between 1975 and the end of 2015. Six Iranians, six Sudanese, two Somalis, two Iraqis, and one Yemini have been convicted of attempting or carrying out terrorist attacks on U.S. soil. Zero Libyans or Syrians have been convicted of planning a terrorist attack on U.S. soil during that time period.
However, there are other predominantly Muslim countries that do have a history of supplying terrorists to the US. For example, terrorists involved in 9/11 attacks were from Egypt and Saudi Arabia [3]. Following Trump's logic, those two countries and a few others should be included on the list as well. Also, according to Trump's administration, it's not a "Muslim ban." This means that other countries that supplied terrorists, like Russia—think Boston Marathon bombings in 2013 [4], should be on the list as well.
Interestingly enough, those countries are not on the list, even though they are arguably more "dangerous" than the ones on the list. What's up with that? I think the answer is pretty obvious: Trump's family has business interests in Saudi Arabia, Egypt, United Arab Emirates, and some other "potentially dangerous" countries. Here are a couple of examples [5]:
Trump registered eight companies tied to hotel interests in the country [Saudi Arabia] shortly after launching his campaign in August 2015, according to The Washington Post. The companies were registered under such names as THC Jeddah Hotel and DT Jeddah Technical Services; company names The Post reported bore striking resemblance to ones Trump has registered in other foreign countries.
In Egypt, Trump's business holdings are characteristically vague. His latest Federal Election Commission filing lists two companies in the country, Trump Marks Egypt and Trump Marks Egypt LLC, both of which are most likely connected to a development venture.
The Trump Organization has a licensing and management deal in Dubai for two golf courses and a whole neighborhood of luxury villas currently under construction. The second golf course was designed by Tiger Woods.
The picture is pretty clear, unless I am missing something important: Muslim countries that are not part of Trump's business interests and that didn't supply a single terrorist to the US since 1975 are on the list. Countries that are part of Trump's business interests and that did supply terrorists to the US are not on the list. Yet, the president still insists that the US needs "strong borders and extreme vetting":
Our country needs strong borders and extreme vetting, NOW. Look what is happening all over Europe and, indeed, the world - a horrible mess!

— Donald J. Trump (@realDonaldTrump) January 29, 2017
I think this is the definition of hypocrisy and outright lying. No one can support it with clear conscience, since it just doesn't make any logical sense (again, unless I am missing something major). I am particularly disappointed in the Republican establishment that didn't condemn this executive order due to inner GOP political games. I think it's an example of cowardice. I voted for some Republican congressmen in the past but from now on I will be extra careful and thoughtful while researching my options on the ballot every two years.
Why Did This Happen?
Why did Trump sign this illogical executive order? There are several theories going around and at this point I strongly agree with one of them. I think he simply wanted to deliver on his promise to "secure our borders" and "protect Americans from radical Islamists." He wanted to create the appearance that he was following up on his campaign promises. And so he did in the most hypocritical and dishonest way possible.
In an interview with Fox News Rudy Giuliani said [6]:
I'll tell you the whole history of it. So when [Trump] first announced it, he said, "Muslim ban." He called me up. He said, "Put a commission together. Show me the right way to do it legally."
I wouldn't generally trust Giuliani, but in this interview he was actually defending the ban and Trump, so the "Muslim ban" remark should be taken pretty seriously.
There we have it: a lopsided executive order discriminating against Muslims from the countries where Trump doesn't have business interests.
Here is something else to consider . . . would this executive order be any good if it only included countries that supplied terrorists to the US in the past? It's probably a topic for a different article but I think it would still be a terrible idea.
In 2006 I came to the US as a Russian immigrant. Today I am an American who contributes to this country culturally through socializing and writing and monetarily through taxes and consumerism. I am forever grateful to Americans who accepted me for what I was and helped me become successful in so many different ways. I would not be able to make it on my own without this kind of help and kindness. I consider American acceptance and tolerance to be one of the strongest forces in the modern world. It makes us better and gives hope to those who can't succeed in their countries of origin due to reasons beyond their control. Implementing a catch-all executive order that ruins the lives of thousands through immigration twiddling, for no real value, is fundamentally un-American.
How Did We Respond?
What is American is how the people responded. Thousands gathered at the nation's largest airports to protest against a cowardly government. Lawyers (lawyers!) spent hours working for free to figure out how to get the detainees in [7].
This made me really proud. I think that there absolutely is hope. We just have to work on it. There are a few things you can do:
Get educated: read the latest news and do your own research.
Spread the word: be it Facebook, Twitter, or a personal blog. Share your thoughts and findings. I think it's valuable to see all citizens contribute to the conversation.
Donate: support organizations that are fighting the good fight. I personally recommend looking into the Cate Institute [8] and the ACLU [9], but please do your own research before donating.
Protest: get out on the streets whenever there is an organized lawful protest.
References